As a Payment Initiation Service Provider (PISP), AgoraPay initiates payment directly from your customers' bank account, at their request, in the form of a bank transfer. AgoraPay enables you to streamline the transfer payment process, which is integrated directly into your marketplace's payment form/page in order to boost your conversion rate.


Transfers resulting from payment initiation are carried out using the relevant bank's API in accordance with European regulations
Payment pages

Payment Initiation transfer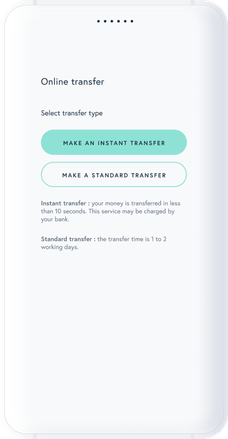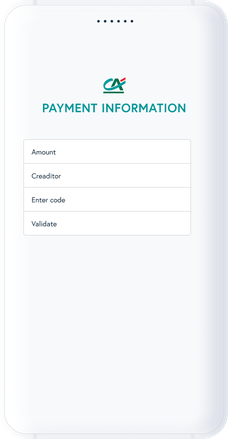 Introduce account-to-account payments in addition to card payments

Fluidity
Offer your customers a smooth shopping experience directly from your payment page so they can validate purchases via their banking app. Your customers won't need to leave your website environment.

Simplicity
Make your payments easier to trace and reconcile by initiating transfer orders. Your customers no longer need to enter data or fill in the beneficiary. They can simply validate the transfer information and make the payment in just a few clicks.

Security
Offer your customers an irrevocable payment method (one-off or instant bank transfers) with a much lower fraud rate than card payments, secured by the strong customer authentication feature integrated into all banking apps.

Speed
Get access to your funds in 10 seconds if you opt for instant transfers (compared to 24 working hours for standard SEPA transfers).
Conversion
Enable your customers to convert larger baskets with higher payment limits than payment cards.
Discover the solution
Quickly find the answer to your questions
How much does it cost to use AgoraPay?
AgoraPay costs 1.5% + €0.20 (excl. VAT) per card transaction within the EEA. The 1.5% fee can be broken down into 1.2% for acquisition processing and 0.3% for AgoraPay services. For more information about our pricing, please contact us. Other payment methods are explained here. No installation fee or monthly fee. The charge for new merchant enrolment is €10 (excl. VAT). You pay only for your usage, with no minimum fee. Prices are subject to change in accordance with the terms and conditions stated in your contract.
Are there any additional fees for using the platform?
No. There are no additional fees. In the event of non-payment, any fees associated with handling the dispute may apply. For more information, please contact us.
Can I receive rate offers based on the transaction volume adapted to my business?
It's a SEPA Credit Transfer that uses a virtual IBAN that serves as a reference to collect funds.
KYC (Know Your Customer) and KYB (Know Your Business) are processes that allow us to check the profile of individuals, legal entities and companies. They provide an analysis using a set of supporting documents provided at the time of enrolment. This allows us to play our part in anti-money-laundering and countering the financing of terrorism.
Check the faq